Recipes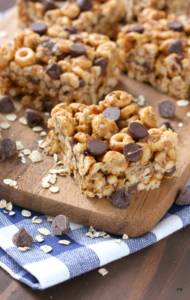 Peanut Butter and Honey Bar
¾ cup Paradis honey
1 c natural peanut butter (smooth)
¼ tsp salt (optional)
1 tsp vanilla
1 cup semi-sweet chocolate chips
1 cup salted peanuts (coarsely chopped)
3 cup rice krispies
Grease and 9 x 13 pan with butter and set aside.
In large saucepan, melt honey and peanut butter over medium low heat. Add salt and cook to a light boil, stirring consistently. Remove from heat, stir in vanilla and blend in remaining ingredients.
Press mixture into greased pan and cool in refrigerator for 2 hours. Once cooled, cut into bars. Keep in airtight container in a cool place.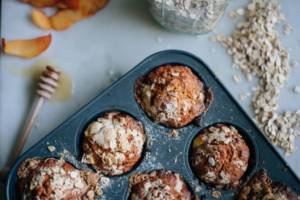 Honey Oat Muffins
1 cup large flake rolled oats
1 ¼ cup buttermilk
¾ cup each all purpose and whole wheat flour
1/3 cup packed brown sugar
2 tsp baking powder
½ tsp each baking soda and salt
½ tsp Cinnamon
1 large egg
1/3 cup each canola oil and Paradis honey
2 tsp Vanilla
1 cup dried cranberries or raisins
Line 12 muffin cups with muffin liners or grease, set aside.
In medium bowl, stir together rolled oats and buttermilk; let stand for 10 minutes.
Meanwhile, in large bowl, whisk together all-purpose and whole wheat flour, sugar, baking powder, baking soda, cinnamon and salt.
In separate bowl, whisk together egg, oil, honey and vanilla. Pour over dry ingredients. Sprinkle cranberries over top; stir just enough to blend wet into dry ingredients.
Scoop into prepared cups. Bake in 375F (190C) oven until firm to touch, about 20 – 25 minutes. Let cool in pans for 5 minutes, transfer to rack to cool. Makes 12 muffins.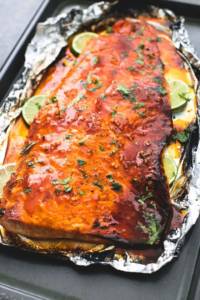 Salmon with Honey Glaze
6 salmon filets with skin (5 – 6 oz each)
Salt
½ cup Paradis honey
3 tbsp balsamic vinegar
1 tbsp oil
2 cloves garlic (finely chopped)
1/8 tsp salt
Season flesh side of filets with salt; arrange skin-side down in a shallow baking pan. Roast at 500F for 5 minutes. To make glaze, thoroughly mix honey, balsamic vinegar, olive oil, garlic and salt. Drizzle 1 tbsp glaze over each filet. Roast at 500F for 3-5 minutes. Remove salmon to serving plates, drizzle 1 tbsp remaining glaze over each filet. Yield 6 servings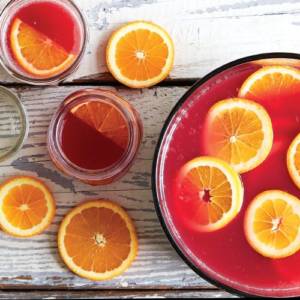 Party Punch
2 cups boiling water
¾ cup Paradis honey
4 cups cranberry juice
2 cups orange juice
1 cup lemon juice
1 quart ginger ale
Ice cubes
Sliced oranges, cranberries, lemons.
Combine boiling water and honey, stir to dissolve. Chill. In large punch bowl, combine cranberry, orange and lemon juices. Stir in honey mixture. Just before serving add ginger ale, ice cubes and fruit garnishes.
Yield 12 servings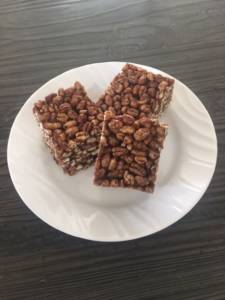 Puffed Wheat
1c butter
1c granulated sugar
3tbsp cocoa
1c honey
12c puffed wheat
Boil first four ingredients until they form a soft ball in cold water or 240 on candy thermometer
Pour onto puffed wheat and mix well until every kernel is covered. Put in a buttered pan and press down. Cut in squares before it totally cools down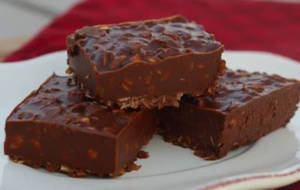 World's Best Chocolate No Bake Bars
1 cup peanut butter
1/2 cup honey
1/2 cup unrefined coconut oil
2 cups dry oats
1 cup shredded coconut
1/2 cup chopped walnuts (optional)
1 1/4 cups dark chocolate chips
1 teaspoon vanilla extract
Melt peanut butter, honey and coconut oil over medium-low heat.
Once melted, remove from heat and add oats, shredded coconut, chocolate chips and vanilla.
Stir until chocolate is entirely melted.
Pour into a 9×13 pan and cool in the fridge.
When it's set, cut into bars and enjoy. Store in the fridge, if they last that long!